RS Hydro were contacted to specify and commission a Proteus real-time water quality monitoring system to monitor BOD, COD & Total Coliforms at a marine leisure centre. The client wanted the ability to have real-time or near real-time data from a system so that they could be alerted immediately if it was not safe for people to swim in. The Proteus was provided with BOD, COD, Total Coliforms, DOC, TOC, Turbidity, Temperature, Dissolved Oxygen, pH, ORP/REDOX and conductivity. The system was pre-mounted on a back plate and shipped to the client who mounted into a buoy system with solar panel. The platform was then deployed in the marine leisure centre to provide a continuous stream of data.
Although the area has a number of water quality monitoring stations there is no such system to measure ecoli or BOD in real-time; these have only been measured by taking grab samples and sending them to a laboratory. Traditional water quality sondes can only measure mainstream parameters such as turbidity, dissolved oxygen, pH or conductivity and then it's down to an interpretive assessment as to whether there 'could' be something wrong with the water quality. The Proteus has put all of this to bed by providing definitive and accurate real-time data that means immediate action can be taken. Currently, water samples are taken from bathing waters on a weekly or monthly basis. This is obviously not ideal meaning there could be a multitude of pollution events that could occur almost un-noticed and hence be harmful to health for both humans and ecosystems. The obvious solution here is that the Proteus is acting as an environmental guardian protecting the public in real-time. The Proteus could easily be deployed at any or all bathing waters in the world to ensure that they are clean and fit for bathers.
The Proteus logging periods can vary between 1min and 24 hours and when connected to SCADA or PLC systems can provide 1-second data. In this application the Proteus was deployed on a data buoy with two solar panels. As the Proteus is very low powered it needs no more than a 10-watt solar panel to provide a constant stream of data to the cloud. Furthermore, the data platform has an API plug-in allowing data to be shared instantly and easily.
The Proteus in this application is proving that the bathing water at this location is of 'excellent' standard (as stipulated in the Bathing Water Directive for inland waters). Below is a graph showing two weeks of continuous 5-min data with the relevant bathing water thresholds for e.coli. Considering the uncertainties and accuracies associated with lab sampling the Proteus demonstrates its accuracy and reliability to measure e.coli in real-time.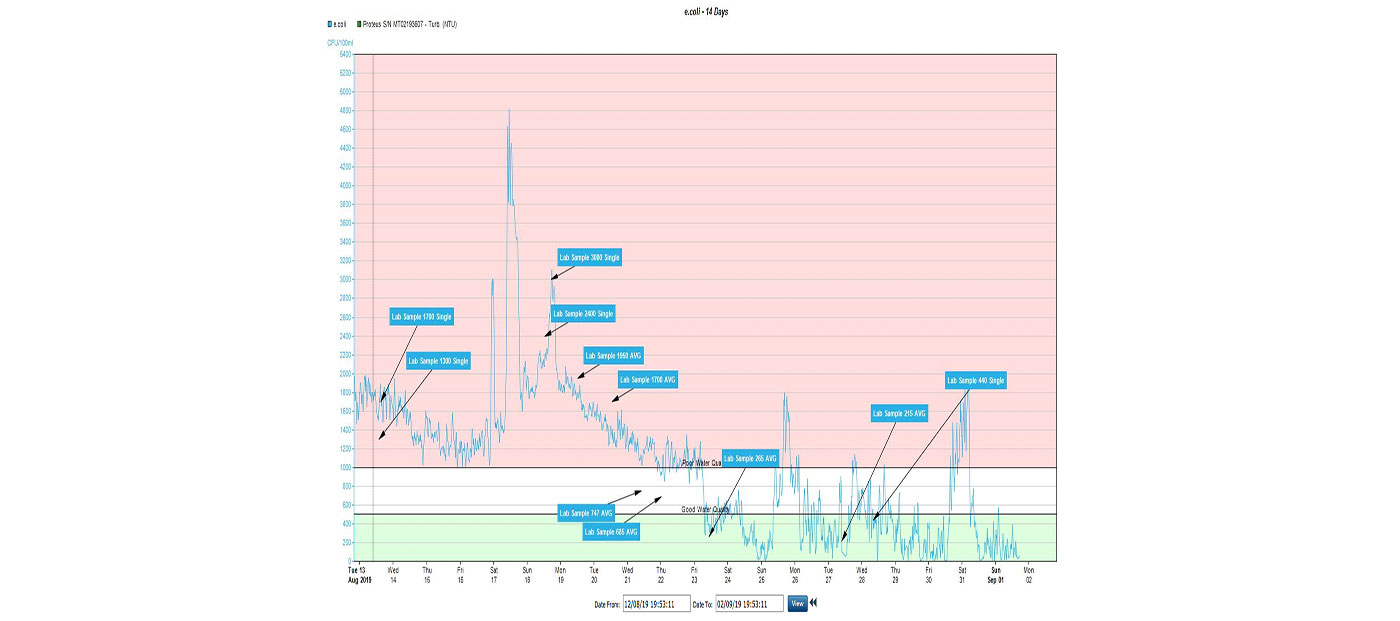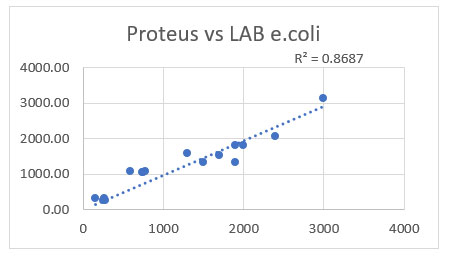 On the right is the correlation between the Proteus readings and the samples sent to the laboratory for analysis.
Rob Stevens, MD of Proteus Instruments & RS Hydro states that 'once again the Proteus has truly transformed our thinking…this innovative new system has the power to transform how we monitor, control and protect our environment. Furthermore, it proves that the Proteus can be used to protect our health and indeed our lives. For this application it means that people can be advised on the water quality in real-time and where water quality is poor the appropriate advisory action can be taken. The potential to use the Proteus to protect recreational resources and drinking water supplies is very significant especially in developing countries. There is simply no excuse for pollution events that wipe out whole ecosystems in rivers and water bodies; the Proteus can provide a real-time alert which will allow us as guardians of our environment to act quicker. Is a 5-day BOD (Biochemical Oxygen Demand) water quality test acceptable when thousands of fish could be killed due to plummeting oxygen levels (associated with sewage or organic pollution) before the results come back from the laboratory? I don't think a single person would say yes; the Proteus can detect the pollution instantaneously allowing us to act immediately and prevent such incidents. It is a very exciting time for us and it's a real pleasure to see people's thinking and understanding change once they see the Proteus in action.'